Remember, I changed job positions with my company? Well, I get to sleep in a little bit later during the day.
Guess what came today?
The beautiful red box was here when I awoke!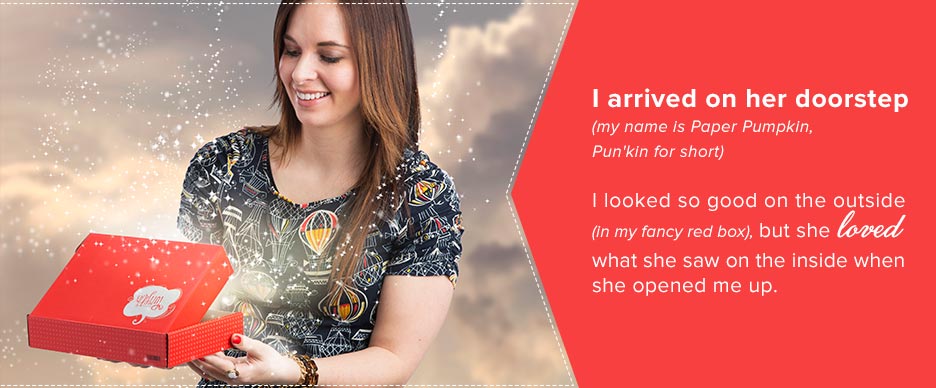 This is just about how magical it was when I opened my box today!
That's the name of the June My Paper Pumpkin - Hello to You. Isn't that just the cutest thing? Well, I probably shouldn't say "cute" cuz you can use this saying for masculine cards. And the men I know, they probably wouldn't like the word "cute." Just sayin'! :)

So, here is the original card design that comes with this month's Paper Pumpkin.
June Paper Pumpkin
Hello to You.
I think it took me longer to get out my glue stick and glass block than it took me to put this card together! Do you notice the hexagons that are punched out? You got it - you will stamp the heart image on the INSIDE of the card, but it shows on the OUTSIDE of the card too! How great is that?

And the hexagons that have daffodil and primrose designs on them - those are stickers! The suede zig-zag pieces? The zig-zag is the third stamp that comes with this month's set.

Now, although it also comes with a sheet of plain white hexagons for us to stamp the zig-zag onto, I used the punchouts from the cards! And for my monthly Paper Pumpkin Party - the crafters will LOVE the extra designs. We are scheduled to meet on Saturday morning. For the long distance monthly crafters, you should receive your extras shortly/early next week.
Hope you have enjoyed this GREAT monthly card! Don't forget to join Paper Pumpkin before the 10th of the month. AND for my monthly crafters, you will receive a PDF of the card designs PLUS the one extra. Here's the link to JOIN NOW! Make sure you see my name, Dawn Stock, Grove City, Ohio, to snag the monthly invite to my home.
Look forward to crafting with you!